02.11.2022
Good results in the GRESB Real Estate Assessment again
eQ's real estate funds participated for the fourth time in the GRESB Real Estate Assessment (Global Real Estate Sustainability Benchmark).
In the 2022 assessment - with data from 2021 - both eQ Community Properties and eQ Commercial Properties funds each received three stars out of five and the Green Star recognition for their sustainable work. The results of both funds are better than the averages of the entire respondent group and the peer group.
GRESB is a global sustainability comparison that measures the sustainability of real estate investment companies and funds in different areas. The assessment is done annually with regard to environmental aspects, responsible management and operating methods. The number of participants in GRESB has grown every year. This year, 1,820 companies and funds from 74 different countries participated in the assessment.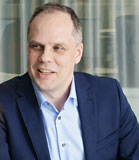 "All our real estate funds are classified as financial products according to Article 9 of the EU regulation on sustainability-related disclosures, whose target is to make sustainable investments. We are a responsible property owner and we want sustainability measures to lead to concrete, positive development in the energy efficiency and environmental factors of the properties we own. We have set a tough but realistic target of carbon neutrality in energy consumption during use by 2030. The result obtained from the GRESB assessment shows that we are doing and developing things in properties in the right direction in terms of sustainability, and concrete results are being achieved. We received full points for setting carbon neutrality targets, building certifications goals, stakeholder engagement and sustainability management such as policies and ESG reporting. According to the assessment, we still have room for improvement, e.g. in the coverage of consumption data on real estate." Says Tero Estovirta, director of real estate investments at eQ Asset Management.
Espoo's new courthouse was completed - the property ranks in the best A energy rating
The courthouse in Espoo, built by eQ Community Properties fund, was completed in Otaniemi in June 2022. The building has an area of approximately 8,600 square meters and includes 200 office workstations as well as customer service and meeting rooms. The tenant is Senaatti kinteistöt, which has leased the premises to judicial administration operators (Länsi-Uusimaa district court, Ulosottolaitos and Syyttäjälaitos).
The courthouse is carbon neutral in terms of heating, cooling and electricity. The energy consumption of the courthouse is monitored with the help of a comprehensive energy measurement system connected to building automation, so that the building's energy efficiency can be optimized. The property has an environmental certificate according to BREAM New Construction 2016 (Very Good level). In terms of energy rating, the property ranks in the best A class.